WTF is up with my love life?! is a question that plagues every single living loving person from time to time. Two cool chicas decided to take this question digital and have created a blog that's getting major press and accolades!
Jess, Becky (the creators of WTFblog and subsidiary pursuits) & I all went to high school together, and I had been aware of their blogging efforts long before they asked me to do a guest installment way back in  July of 2010. (Read the original post, in full here: <3 )
Evidently, the truthful baring of my confused soul was a hit. Sympathetically perplexed players in the game of love felt a connection to (or minimally, rubbernecked at the train wreck that was) my honest account of romantic bewilderment.
So much so, a request for a follow-up was made; Happily, I obliged.
While the thematic approaches are fairly similar, my mentality couldn't be more antithetical between the two pieces. I'm obviously in a completely different place than I was then and it's all due to a special someone who really helped me come to some understandings about myself, and find what it was that I was looking for.
Excerpted:
I suppose it all depends on what you're looking for at the time. Those not looking for a lasting relationship should, by all means, explore whatever random sexual deviance they can get a willing partner to consent to. And while perhaps truly tempted by the lurid lures of a lecherous lifestyle, in the end, it was never what I really wanted.
I've always adored alliteration.
Anyway, read the whole piece here: Calling Myself Out: Confessions of the Confused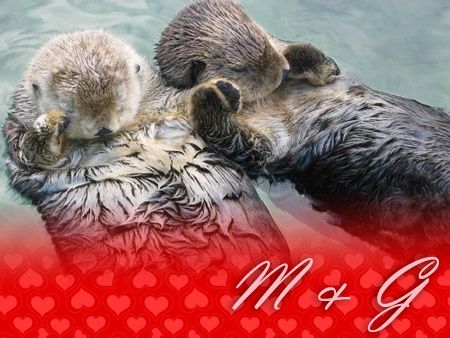 pic: my cherished otter & I. I love you honey.