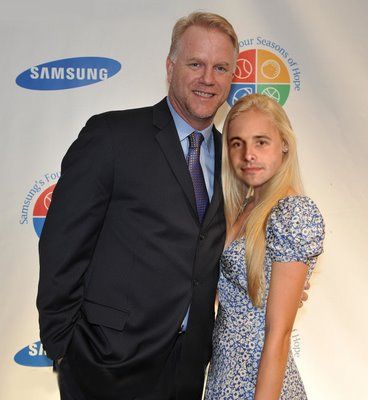 It was a slightly off-putting rendering of a snuggled-up Boomer and Carton that brought me to their attention in the first place — with that in mind, I figured I'd go straight for the jugular and splice our boy Craigie on [what I assume is] Boom's daughter. They strike a distinguished, albeit exceedingly creepy pair. Keep your hands above the waist on the dance floor, that means you Norman.
To fully comprehend the reason for this superfluous display of Craig Carton photoshopping – read the back-story here:     bang!
Anyway, Craig takes warmly to idolatry and therefore, it is my pleasure to oblige.
How much can you bench?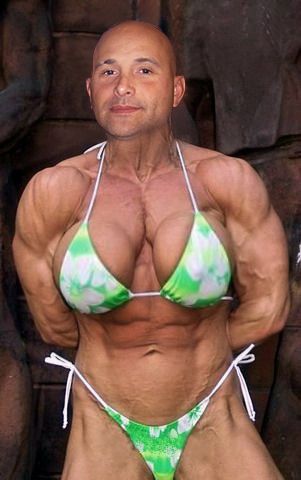 The question 'how much can you bench?' is a staple in the deep pool of poignant Carton interview questions. Regardless of the variety of guest, this pertinent inquiry seems to bubble forth from Craig with charmingly homoerotic exuberance.
Honestly, is the question even relevant anymore? A lot of people exercise without actually using the bench press. Perhaps Craig thinks every person at the gym is filming their own Rocky-esque workout montage. Anyway, the picture at left is sort of a manifestation  of Craig's perfect self realized: a finely tuned display of testosterone and tits. To capture the pinnacle of both masculinity and femininity inside a single form would be an achievement nearing the divinity that Carton already emits. Just ask him.
Cab00mz
Boomer and Carton are quite a pair. One is an expert football analyst and handicapper, drawing from years of experience and honed strategical expertise. The other guy used to play professionally or something? I dunno, the blond guy hardly gets a word in edgewise. But that's fine, Craig Carton is a shining beacon of legitimate sporting information and opinions. Little do people know that, while Boomer was the one doing things on the field (like winning the 1988 NFL MVP award), it was Craig Carton playing puppeteer and instructing Boomer on how exactly to go about succeeding in all of those athletic endeavors.
Fun Fact: The Cincinnati Bengals fell short in Super Bowl XXIII not because the champion 49ers were a better team, but because Craig wasn't present at the game and therefore could not pilot the Bengals to a victory.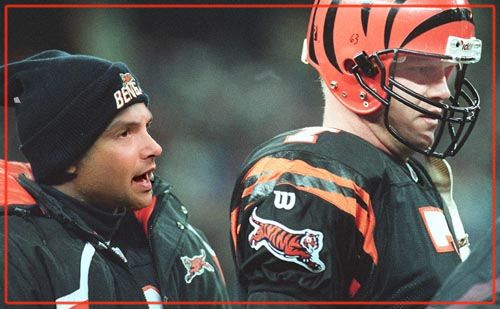 Taken on January 8th, 1988, the photo above depicts NFL legends sharing a moment of contemplation on the brink of an AFC championship game victory over the Buffalo Bills. Carton was heard to whisper "hey B00m — got a great idea here. How's about you throw a few big strikes today kiddo." Boomer complied and lead the Bengals to their last Super Bowl appearance to date. That was then.
Today, they comprise the morning menagerie on Sportsradio 66, WFAN in NY. Boomer's a little bit country, Craigie is a little bit rock and roll and in the end, we can all agree that they do try really hard. Say what you will about Boomer and Carton, but you can't argue with the results. Lots of people seem to like them and they do perform their show with a vigor that otherwise does not occur on the station. While they may not be everyone's box of Wheat Thins, the production and enthusiasm embodied in the show is unmatched by anything else airing on the station. I mean really… Nets hoops?
So until some semblance of competitor has the sand to attempt a run at WFAN's choke-hold on the Arbitron™ ratings, these two jesters will be holding court in the morning and cracking wise for the 50 watt Clear Channel audience that's already dialed in.